Plugins, we love them, you probably do. Here is a list of our favourite FREE plugins for music producers.
For other free downloads, check out our partners at earjoy!

We love our analog gear, so we have tried to focus on analog emulation style plug-ins. Sometimes these free plug-ins can do a better job than expensive ones. Get a top-quality analog sound for FREE

They are a mix of VST, VST3, AAX, RTAS and AU, and have been tested on Windows (some on Mac). They mostly all work in Logic, Ableton Live, Pro Tools, Cubase, FL Studio, Presonus Studio One, Reaper, Reason and other DAWs

List Includes:
Dynamics,
Equalization,
Saturation/Distortion
Reverb,
Other?!
Join the Ark Audio mailing list to get updates on the latest tutorials, free downloads, deals and music info!

Dynamics:
AdHd Leveling Tool:
https://audiotools.se/downloads/leveling-tool/

AdHd Leveling Tool is a Tube Leveling Amplifier inspired by the legends and carefully crafted to meet your compression needs.
– This is a software emulation of hardware leveling amplifiers. While not modelling a particular hardware unit, the developers found inspiration in the sound signature and gain reduction characteristics of hardware classics such as the Teletronix LA-2A Leveling Amplifier.
– With the classic input gain and peak reduction knobs , AdHd Leveling Tool also includes adjustable attack and release time parameters, adjustable gain reduction ratio, a side-chained high-pass filter, and a dry/wet knob. The user can also choose between two metering modes: input volume and gain reduction.


HoRNet CompExp:
https://www.hornetplugins.com/plugins/hornet-compexp/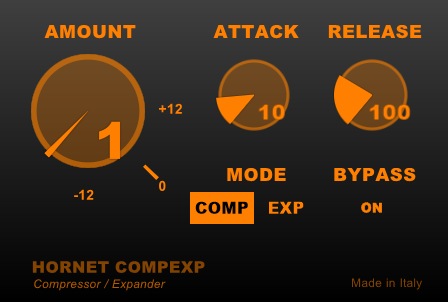 Compression and expansion based on a classic telecom chip.

The chip works with a fixed threshold (in this case its internally set to -18dBFS) when the "amount" knob is at a value greater than 1 the gain is increased by the specified factor if the signal is below the threshold, and decreased if above. If the chip is set to work as an expander, the contrary happens, the gain is increased if above the threshold and decreased if below.
The system is designed this way to permit dynamic compression on telephone lines and compressor and expander are used together in this configuration, but HoRNet found that these models sounds interesting by themselves.



Vladg No. 6 Limiter:
https://vladgsound.wordpress.com/plugins/limiter6/
A flexible Limiter, perfect for mastering jobs and very fully featured:
– 5 modules: RMS compressor, peak limiter, high-frequency limiter, clipper, true peak limiter
– high-quality signal processing to use for mastering purposes
– brickwall and soft limiting with different timing settings
– M/S and multiband modes
– optional 4x oversampling
– true inter-sample peaks (ISP) limiting
– analog-style indication
– 2 different GUIs



DC1A:
https://klanghelm.com/contents/products/DC1A/DC1A.php
DC1A looks like a one trick pony. But don't get fooled by the lack of additional controls. You may be surprised on how many different material this little thing works.

DC1A has a few tricks up its sleeve: negative (over) compression, parallel (New York style) compression, option to compress left and right channel independently (via the DUAL MONO switch), peak and RMS compression (RELAXED switch on) and DEEP activates a high pass filter to reduce pumping on bass heavy material

Equalizers:
Analog Obsession Rare EQ:
https://analogobsession.com/product/rare/
The Classic Pultec EQ, need I say more? This emulation is pretty decent for the price, it seems to go further than the Waves version. Featuring True Component and Circuit Modeling. Re-drawing and designing original circuit carefully and emulated original fingerprint of gear with our technology. Carefully designed transformers and tubes. Fully emulated tube program eq.



VHL-3C:
https://blackroosteraudio.com/en/products/vhl-3c

Built around a cascade of two constant-K filters the VHL-3C's analog counterpart – a sought-after processor from the early 1950s – comprises an entirely passive design with very musical and interactive pass filters.

Offering 3 simple and intuitive controls, the VHL-3C allows you to effectively remove rumble, hum or harsh frequencies from your signals. SPICE type component based circuit simulation approach allows to authentically capture the sound and feel of the analog counterpart in all nuances.

Every crucial part of the passive filter network including filter stage interaction and the influence of different load resistances have been faithfully modeled.




Code Red Free – Abbey Road EQ:
http://www.shatteredglassaudio.com/product/106
Code Red Free accurately emulates preamp circuit, EQ curves, bold and punchy character, and the warmth of the classic 60s all tube British console that the Beatles recorded most of their material on. Easily recognized overdriven sound of the Beatles' "Revolution" was created by playing a P90 based guitar through two chained preamps from this console.





Saturation/Distortion/Harmonics:
Thrillskeeker XTC Exciter:
https://varietyofsound.wordpress.com/downloads
Bringing mojo back – Thrillseeker XTC is a contemporary exciter build around a true parallel analog style equalizer design. Thrillseeker XTC is all about adding weight, vibe and attitude back to the sound. It delivers all the character of an analog signal path and provides what digital processing usually is hard pushed to, including a rich low-end experience and that vibrant 'expensive' top-end.



Cypress TT-15 Amp Sim:
https://blackroosteraudio.com/en/products/cypress_tt-15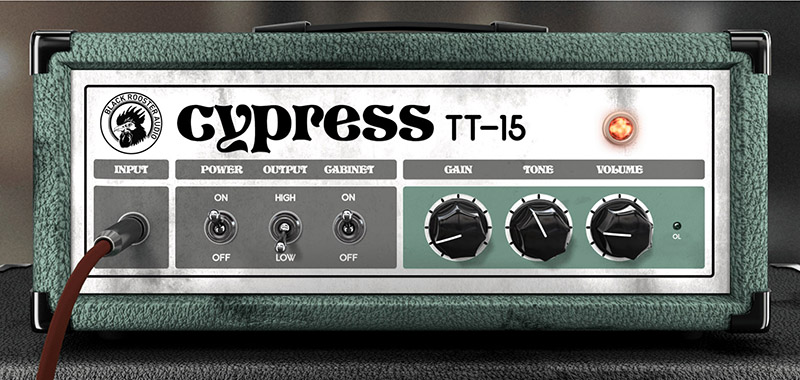 Black Rooster Audio's guitar amp head emulation meticulously modeled after a very versatile, yet uniquely sounding low wattage amplifier the Black Rooster Audio Cypress TT-15 comes to you at an unbeatable price point: It's free!

With its no-nonsense approach and only six intuitive controls, the Cypress TT-15 will help to get the job done right away, no matter if you're looking for clean through crunchy guitar tones or if you want to achieve biting, distorted lead sounds. It includes a simple 2×12 cabinet simulation that can be bypassed if you prefer other solutions or if you're feeding into an external power amp/cabinet stage.



The Canaray:
https://blackroosteraudio.com/en/products/canary


The Canary was designed to support you in creating the most powerful and convincing drums you have ever recorded or mixed.

This plug-in let's you expand and recover some fundamental aspects of the drum signal that may have been lost during the recording process or which haven't been there in the first place. These include tone, attack, sustain and some very basic filtering, which define the natural sound of the shell. You lost attack and impact through your recording? Your drum signals sound dull or not particularly powerful? The Canary is here to help you, synthetically adding those missing features, allowing you to refine and redefine your drums in the mix.



ProF.E.T:
https://www.kvraudio.com/product/prof-e-t-by-ignite-amps
ProF.E.T is a digital emulation of an high gain distortion preamp/stomp-box for guitar. It has been developed to accurately model its real hardware counterpart, designed and built by Ignite Amps in 2018.



Klanghelm IVGI Saturator:
https://klanghelm.com/contents/products/IVGI/IVGI.php
IVGI can deliver very soft and subtle saturation, that feels at home
on the master buss. It is equally capable of very dense and dirty
distortion effects to spice up single tracks. IVGI reacts dynamically to the input signal. Even the modeled fluctuations react dynamically and also change depending
on the drive setting, so that it doesn't get in the way of the
SOUND. IVGI features a Controlled Randomness, which determines the internal drift and variance inside the unit. It contributes to the liveliness and realness of IVGI's saturation character. To achieve this, all internal processes are modulated to some extent.



FerricTDS – Tape Dynamics Simulator:
https://www.kvraudio.com/product/ferrictds—tape-dynamics-simulator-by-variety-of-sound
Inspired by the smooth dynamic shaping capabilities of some high-end reel-to-reel tape recorders, FerricTDS – Tape Dynamics Simulator simulates three of the most distinctive and much appreciated sonic effects generated by these devices:

Dynamics: gently shaping the overall dynamic response.
Saturation: adding extra harmonic-related content.
Limiting: controlling peak performance.
Reverb:
Stone Voices Ambient Reverb:
https://www.kvraudio.com/product/ambient-reverb-by-stone-voices
This reverb goes on for ever………………..



TAL Reverb-III : Plate Reverb
https://tal-software.com/products/tal-reverb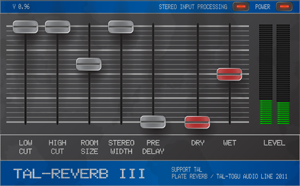 TAL-Reverb-III is an easy to use stereo reverb plugin. It's popular because it's very very diffuse sound. It has an additional signal feedback path.



EpicVerb:
https://www.kvraudio.com/product/epicverb_by_variety_of_sound
epicVerb is a reverb plug-in that aims at both tight small room and ambience effect simulation, up to large "epic" halls as found in high quality outboard gear. This reverb's sound ranges from rather concrete or even edgy up to smooth, transparent and artifact free reverb tails. It is designed for maximum flexibility and usability and to take place as a true high quality stereo main reverb.



Hotto Spring Reverb:
http://www.hotto.de/vstplugins/springreverb.html
Despite the minimal interface, this reverb is a suprisingly accurate emulation of the classic spring reverb sound.
Instruments: (more coming soon…)

Our very own analog vintage electronic organ. The pure waveforms of an ancient beast
Other:
Paul Stretch:
https://xenakios.wordpress.com/paulxstretch-plugin/
Sitala Sampler:
https://decomposer.de/sitala.html
Regrader:
https://www.igorski.nl/download/regrader–degenerative-delay-processor

Dumpster Fire: (Click "Steal" next to "purchase" for free download … or buy it)
https://freakshowindustries.com/dumpster-fire
Check out our earjoy.org for more music tips!
Join the Ark Audio mailing list to get updates on the latest tutorials, free downloads, deals and music info!